We're finally emerging from the post-quarantine craze to bring you this stunning whole home remodel we wrapped up at the start of 2020. We're still obsessed with the finished product of this Scandinavian style and want to drop a few of our favorite features for you to see below.
White Oak Custom Cabinets
One of the most jaw dropping features of this home remodel are the white oak custom cabinets. These gorgeous cabinets have a natural finish and an inset shaker style. You'll see touches of this white oak throughout the house, providing the perfect amount of warmth to compliment the crisp white backdrop.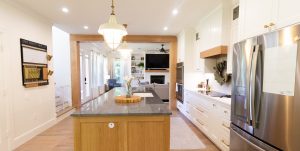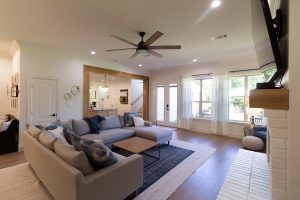 Gold Hardware
Another detail we love is the subtle gold touches in the hardware. Drawer pulls and light fixtures can be so underrated, and the hint of gold throughout the kitchen lends to just enough elegance to make this space interesting. We know brushed nickel and matte black are the safer options, but you can't deny how gorgeous this gold looks when mixed into the warm neutrals. It's worth the risk, if you ask us!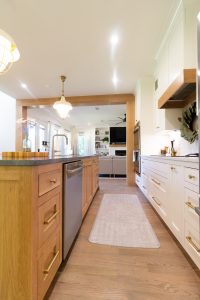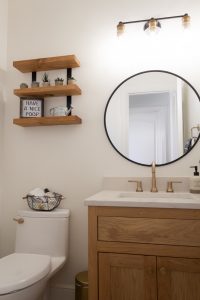 Natural Light
Any space can have all the right components, but what's the point if you can't see any of it? There's no doubt we're big fans of natural light. And by that we don't mean one cutesie window that let's in some afternoon sun on occasion. We're talking lots of it. And this space is the poster child for the type of natural light we obsess over. Take a look for yourself…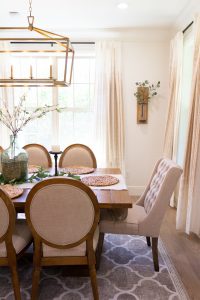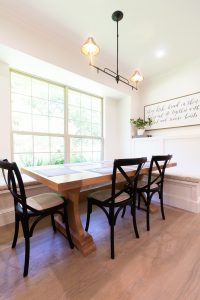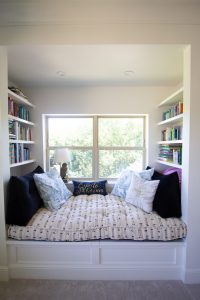 Open Concept
One last thing we want to touch on is the fabulous open concept of this design. There's not much we love more than knocking down walls to create space for families to gather and enjoy their home together. Open concepts are great for day-to-day traffic flow but are also super ideal for hosting large gatherings for special occasions or holidays. In this space, everyone gets to feel like they belong and we absolutely love that.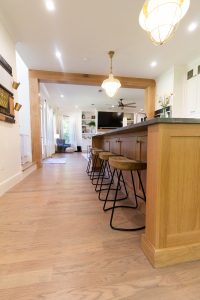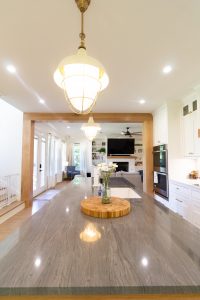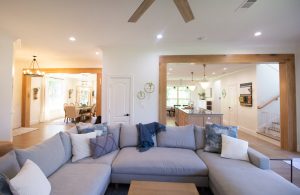 Thanks for taking time to check out our work! If you're looking for a contractor in the DFW metroplex, you know where to find us. 😉
Gold hardware: Restoration Hardware
Kitchen faucet: Brizo
Tile: Zellige handmade Moroccan tile in Casablanca White
Pendant Lights: Circa Lighting Item # TOB5042 Henry Industrial Hanging Light in White w/ Brass
Kitchen Nook Light: Burke Decor SKU: CC-9000-0114 Prosperity Rectangular Chandelier in French Black by Currey & Company