We're all stuck at home staring at the things we wish we had updated before the quarantine started so we could actually enjoy our space. If you find yourself cringing every time you walk into your bathroom or kitchen and scrolling through Pinterest with dreams of sprucing up your home, we've got a few tips that may satisfy your DIY itch without breaking the bank! With the convenience of Amazon and maybe a few YouTube tutorials, you'll have a fresh new space in no time!
Cabinet hardware
A quick and easy way to freshen your cabinets is to buy some new knobs and pulls! Check the spread between holes (measure the inside, they usually fit 3"-5" spreads!) and find the handles that will go back in the same spot. Amazon has great cabinet hardware options that come in larger packs. You'll spend way less with these than buying individually through stores such as Lowes, Home Depot, or Restoration Hardware.
Here's one of many options from Amazon: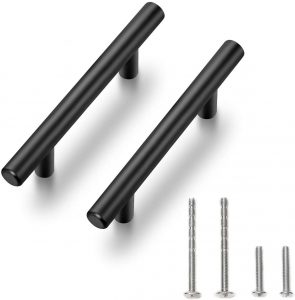 Door hardware
They might be a tiny bit tricky to install but having new hardware on your doors is a surprisingly great update. Check out hardware such as these Kwikset levers. Count how many passage doors you have (without locks) and privacy doors (with locks) Most all door handles are reversible so you shouldn't have to worry about the direction of the swing. 
Check out these brushed nickel door handles: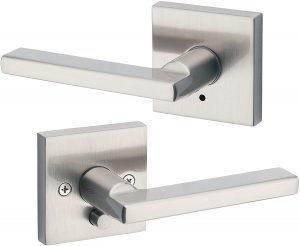 Lighting
Now this may require an electrician (or Youtube, who are we kidding?) But a new light over your kitchen table and some new flush mounts in hallways, the utility room, or entry go a LONG way to brightening and updating your space before you get to knock down walls and rip out cabinets.
Here's a great pendant chandelier perfect for a dining or living space: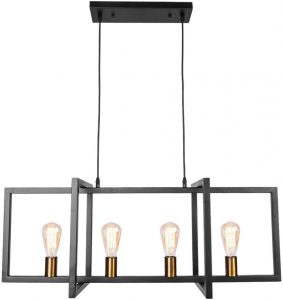 Floating shelves
Make sure these are properly supported, but some new floating shelves like these from World Market add functional storage as well as a new design element. Nothing too heavy should go on these though! When we as GCs install floating shelves, we reinforce with metal brackets in the walls and are attached to the studs. Anything surface mounted needs to be treated gently!
These floating shelves are great for adding dimension to plain walls: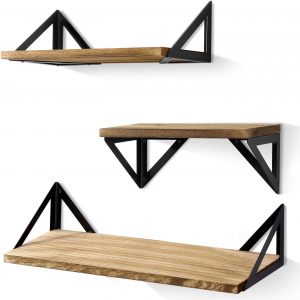 Paint a wall or your cabinets
Sherwin Williams' Alabaster or Snowbound are our go-to whites, but if you want to create an accent wall maybe try Inkwell or Laguna? We usually recommend flat paint finishes on the ceiling and something like eggshell on the walls. Using a flat (matte) paint on the walls is a guaranteed magnet for fingerprints, so anyone with children be warned! Shinier walls hide dirty fingerprints longer! If you do decide to paint your cabinets, don't forget to sand it down! If you're painting over a stain the wood grain will still show through. Also, Sherwin Williams has an app that lets you overlay paint colors on your wall so you can kind of see how the color would look. 
Check out this awesome resource from Sherwin Williams: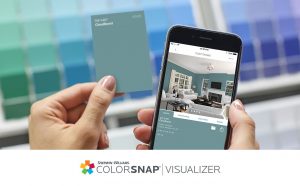 Wallpaper
Ok. This could be controversial. But you could try wallpapering an accent wall. Textured walls will not have a smooth finish, so if you're committed to the wallpaper idea, smooth out the wall with some tape and bedding to float it smooth. There are a lot of peel and stick options available, so try to keep those lines straight but this could be a new feature wall in your house! Maybe throw in those floating shelves?
Wallpaper like this one adds color and eye-catching variety to any room!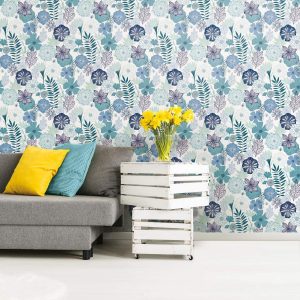 If you try any of these techniques to freshen up your home, share it with us so we can applaud your handiwork! Best of luck, homeowners.